This post is a bit different from my usual tutorials (in that it doesn't involve Excel or Word!), but one of my clients appeared on my doorstep on Friday with his laptop and a look of desperation along with a plea of "my kids have broken my internet!".
His internet wasn't "broken" – turns out his 3 year old twins had been playing on the laptop and got a little bit impatient whilst opening Firefox.  Whenever my client clicked on the shortcut, Firefox opened up 17 (yes, 17!) times and it was driving him mad! 😉
So this post is to show you how to get it back to normal if it happens to you…..
Firstly open up Firefox and click on their menu (usually found in the top left corner), and select Options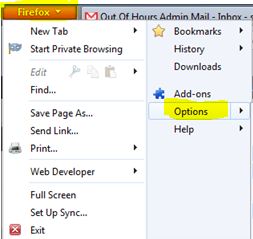 This will bring up a dialogue box, make sure that the General tab is selected, and under the Startup section you'll see "When Firefox starts:" and a drop down box.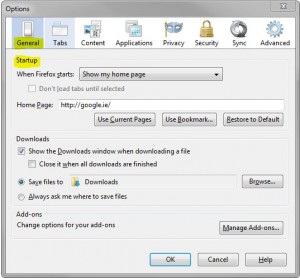 Click on the drop down arrow and you will see 3 options: Show my home page, Show a blank page, Show my windows and tabs from last time.
Make sure that Show my home page is selected, and click OK.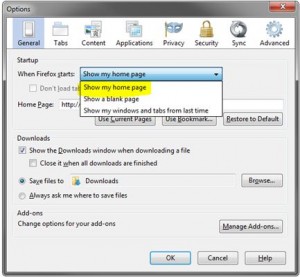 And that's it! Your settings will be saved so that next time you start up your computer and Firefox only your home page will open.  My client had got his set to "Show my windows and tabs from last time" which is the reason for all the tabs opening numerous times….. kids, don't you just love them 🙂