I was asked recently by a client if there is a way of sending a bulk/group email in Outlook using a list of names & email addresses in Excel. There is, so I thought I'd show you how 🙂 (Click on the images to enlarge)
There are a couple of steps to prepare before sending the email.
Step 1: Excel worksheet
Your Excel worksheet must contain the data required for the merge e.g. email address, name, company name etc., each in a separate column…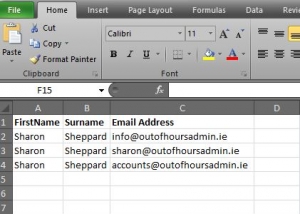 Save and close the file.
Step 2: Word document
Open up a Word document and type your email. Leave space where you want to insert fields to personalise the email, e.g. "Dear (first name will be personalised)…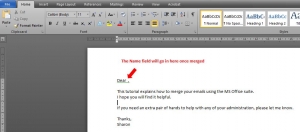 Click on Mailings on the ribbon, then click on the drop down arrow next to Start Mail Merge, and select E-Mail Messages…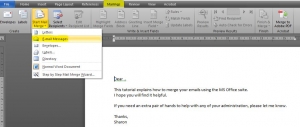 This changes the document to Web Layout. Staying in the Mailings tab on the ribbon, click on Select Recipients and choose Use Existing List…

Navigate to where you saved your Excel file containing the data and click Open…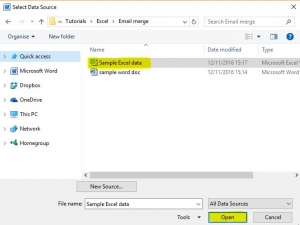 Choose the sheet which contains the relevant data, in our example above the data was in Sheet 1, tick the box First row of data contains column headers, and click OK…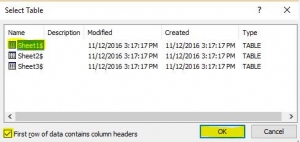 To personalise the email, place the cursor to where you want the name typed, click Insert Merge Field and choose FirstName…

This inserts the Field "FirstName", it's always a good idea to preview the results before sending the email just to make sure it's bringing over the data correctly. Click the arrows to move through the results…

Once you're happy with it, click on Finish & Merge and select Send E-Mail Messages…

Make sure Email Address is selected in the To:, type in a relevant subject line and choose which records you want to use, in this example we'll send to All…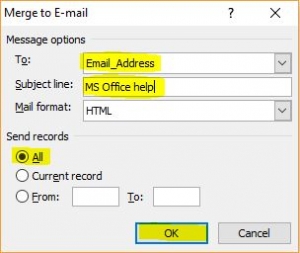 This will now send the emails from your Outlook, and the messages will appear in your Sent folder…

That's it! I hope you've found this useful to know 🙂