I was asked the other day how to send attachments that are just too big for the email, after giving my answer, I thought there may be other small businesses out there that have no idea what to do so this post may be of help to you!
So, you've created an all singing all dancing presentation which is to be used the next day, you go to email it and nothing happens…..no wait, something does happen, it bounces back to you undeliverable as the attachment is something like 40 MB and is way too big to send so what are your options?
Google Docs If you (and the recipient) have a Gmail account, then this is probably the easiest solution.  It's free, simple to use and has the added benefit that the files are "shared" therefore changes can be made by both parties and updated at the click of a button (or mouse!).  If either of you don't have a Gmail account then create one – it takes less than 5 minutes, is free, and you get some ridiculous amount of storage (something like 1024 MB)!
Below are step by step instructions on how to use it, if this is new to you:-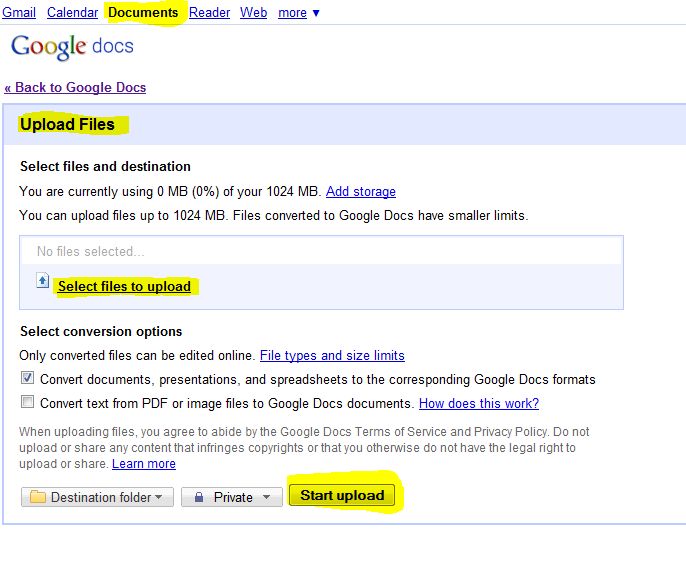 Firstly, make sure you're signed into your Gmail account, then click Documents (along the toolbar at the top).
Select Upload Files, then Select files to upload – once the file is selected, click Start upload.
That's it – your file is uploaded and ready to share!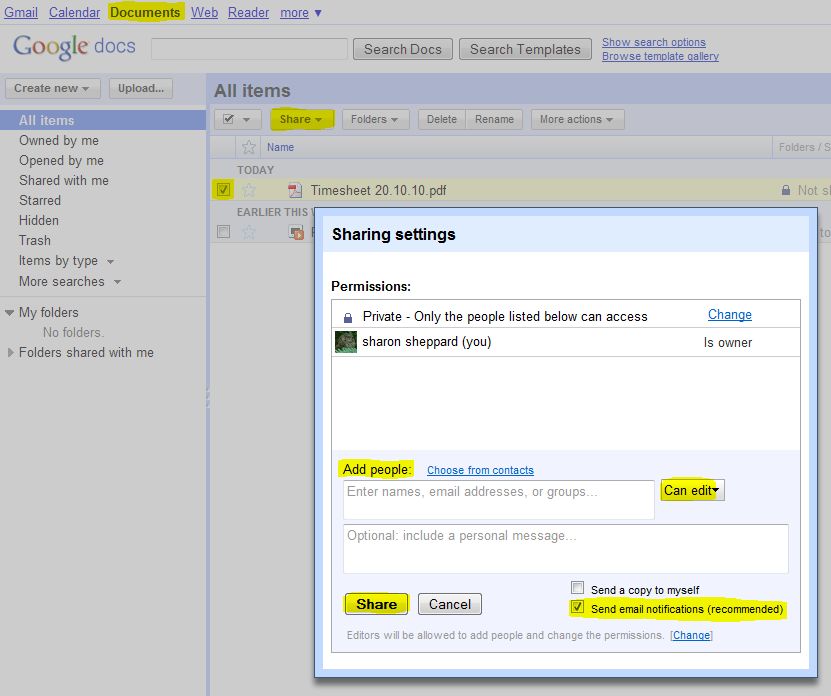 Once the file is uploaded, select it by ticking the box to the left of the file name.  Then select share and sharing settings.  This is where you can add the email address of the person you want to share the file with.  You can also specify whether you want to allow that person to edit the document or just view.
Make sure the Send email notifications (recommended) is ticked, that means you will receive an email if any changes are made to the document by the other person, so you will always be kept up to date with what's happening to it.
Again, that's it – the document is now shared!

Once you've made changes to the document, you may want to download it back to your desktop.  To do this, click File and Download as – this then gives you the option of which format you want it in.  For example if the document is a presentation, then it asks if you want to download it into PowerPoint.  If it's a spreadsheet, it asks if you want it downloaded into Excel etc.  You also have the option to download it as a PDF document.
Select whichever format you prefer and that's it.
You can also create a document from scratch on Google docs, edit share settings to allow other people to view/edit it then download that into the preferred format back onto your desktop.
Another simple solution (if you don't want to use Google Docs) is a program called DropBox. The software takes less than 5 minutes to download, again the recipient needs to also download the software in order to share files.  This works on the same principle as Google Docs, you can create folders, edit sharing settings and download documents back onto your desktop.
If you don't want to download software then there are also other ways of sending large files, I've used 2 sites before:- SendThisFile and EmailLargeFile, both of which are easy to use and free.  All you have to do is register your email address, upload the file you want to send and enter the email address of the recipient.  They then receive an email with a link to the document for them to open & download if they wish.  The recipient does not need to register or download any software.  If you only want to send a large file as a once off then this is probably the way to go, but be aware that both of these options only keep the file you've uploaded for a specific number of days, after which it is deleted.
If you need to keep documents on an ongoing basis, then Google Docs or DropBox would probably be the best option.
Of course, as with everything nowadays there is the option to upgrade (for a fee) which will give you additional storage space / features etc, and there are plenty of other websites/companies that offer transferring of documents for free, the above mentioned are ones which I have used previously and found useful.