One of my favourite tools to use in PowerPoint is the Format Painter feature.  I find it helps to keep all objects (text boxes, shapes etc.) consistent therefore ensuring your presentation looks professional, and it saves you a lot of time!
Format Painter is located in the Clipboard group on the Home tab…

Format painter enables you to copy the exact formatting of one object and apply it to another. For example, in the image below the formatting of text box 1 can be copied to text box 2 by clicking on text box 1, then click Format Painter, then click on text box 2…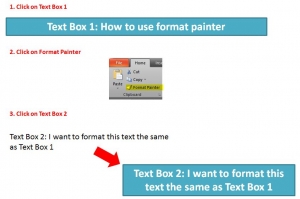 If you want to apply the same formatting in multiple places, then double-click on the Format Painter icon. Once you've finished using it either click on the icon again or press Escape.
That's it – a quick way of making sure your slides look consistent and professional throughout your presentations.