Thumbnails are the smaller images of pages within the document you're currently working in.  You're probably more familiar with them in PowerPoint as the "Normal" view has thumbnails down the left side next to the main slide you're working on.
Well, the same applies to Word.  If you're working on a document several pages long and the thought of scrolling up & down pages drives you insane….. then just view the thumbnails.
This is a very quick guide to show you how 🙂
WORD 2007
So, firstly make sure you're on the View tab in the ribbon.

In the Show/Hide section is the option Thumbnails – just tick that box…..

…..and you'll see thumbnail images down the left side of the main document, so you can go straight to the page you recognise without scrolling up & down – simple 🙂

WORD 2003
It's just as easy in 2003. You just click on View in the toolbar, select Thumbnails and…..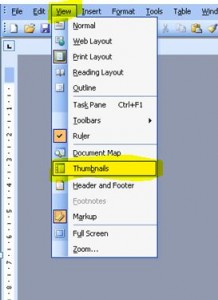 …..voila! You have thumbnail images of the pages in your document.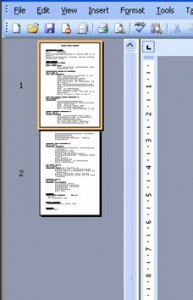 Told you it was a quick guide 🙂